When We Are Closed
Call 111 when it's a concern, but less urgent than 999.
The NHS non-emergency number.
111 is the NHS non-emergency number. It's fast, easy and free. Call 111 and speak to a highly trained adviser, supported by healthcare professionals. NHS 111 is available 24 hours a day, 365 days a year. Calls are free from landlines and mobile phones.
If you're Deaf and want to use the phone service, you can use the NHS 111 British Sign Language service available in your country:

You can also call 18001 111 on a textphone.
How NHS 111 works
You answer questions about your symptoms on the website, or by speaking to a fully trained adviser on the phone.
You can ask for a translator if you need one.
Depending on the situation you'll:
find out what local service can help you
be connected to a nurse, emergency dentist, pharmacist or GP
get a face-to-face appointment if you need one
be told how to get any medicine you need
get self-care advice
Evening and Saturday Appointments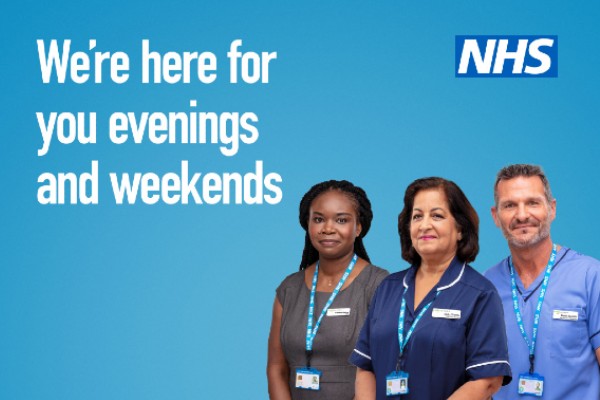 We are here for you in the evening and on a Saturday and we want to make it easier for you to get an appointment at a time that suits you.
Evening and Saturday appointments are available for our patients, in addition to our practice's normal opening hours which can be found of each of their websites:
These evening and Saturday appointments may take place by phone, video, or face-to-face depending on your clinical need.
You may be offered an appointment at your GP practice, another local GP practice or another local NHS service.  This is because we are working with other local GP practices to provide these appointments. We are a Primary Care Network working with our small group of practices within Chingford. This group of practices works together in a number of ways to deliver services in your area.
Evening and Saturday appointments will be provided at the following locations
Churchill Medical Practice: 1 Churchill Terrace, Chingford, E4 8DG
Chingford Medical Practice: Chingford Health Centre, 109 York Road, Chingford, E4 8LF
Handsworth Medical Practice: Handsworth Avenue, Highams Park, Chingford, E4 9PD
The Old Church Surgery: The Silverthorn Centre, 2 Friars Close, Larkshall Rd, Chingford, E4 6UN
The Ridgeway Surgery: 1 Mount Echo Avenue, Chingford, E4 7JX
How to book an appointment
Contact your GP practice in the usual way (by phone, online or in person) to request an appointment.
If your practice is closed and you need support, please visit NHS 111 online or call 111